Life is an adventure. Try something new.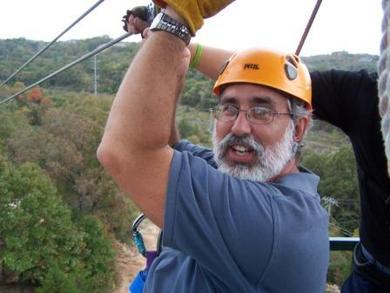 Welcome
My name is Mike Watson and I am an indie writer of action/adventure and thriller novels, a geologist and a surveyor. I love the outdoors. The above picture is my first time to go on a zip line. This was at Branson, Missouri.

As you can see from the headings at the top of the page, the site is multi-purpose. As an independent writer I am offering my self-published adventure novels, a biographical fiction, and soon a post-apocalyptic thriller series as a result of earthquakes in the heartland. The title of the first book is Paradise.
The Jack Trader Adventure series takes place in the early to mid 1950's and the main characters are from the Durango, Colorado area. The series currently contains three books with more to come. The first is The Nestorian Alliance, a race to find Noah's Ark in eastern Turkey, followed by Treasure of the Anasazi, a story where relentless treasure hunters threaten the secrets of Mesa Verde. The third, Wilderness Justice, is a story of Las Vegas preparing to bring gambling to Durango, a young woman's life threatened when she becomes a liability. All books with their descriptions can be seen on the 'books' page. The books can be stand alone, but the reader will gain a better understanding and familiarity with the main characters by reading and enjoying each one.


While in Durango conducting research, I discovered an exhibit at the historical museum that I felt would make a terrific book. It is a biographical story of tension between the city and county governments that led to a gunfight between the marshal and the sheriff. The book contains, by permission, the newspaper articles that followed and led up to the tragic event. The book is titled Shootout at the El Moro.

The blog on this site will cover the different steps in my journey as an indie author, from writing to editing to cover design to self-publishing. I invite you to stay in touch and to leave comments on the blog page.

I will also be sharing photographs of a few of the places we've traveled to. These will include Niagara Falls, Cozumel, the hot air balloon festival at Albuquerque, the Grand Canyon, Mesa Verde... all places I can highly recommend. Beautiful scenery. You won't be disappointed. As we go to new places, we'll share those pictures and experiences too. It includes our first-timers cruise we took on the Carnival Triumph (never again). There are still a lot of places that are on our wish list.

Since this site is constantly changing, you should find something different and hopefully a little more informative each time you visit.

I'm glad you decided to stop by.

Thanks,
mike
INTERVIEW
Savvy
Writers & e-Books online
WRITING & PUBLISHING, E-BOOKS & BOOK MARKETING
Interview with Author Michael Watson TREASURE OF THE ANASAZI23FEB
by Doris-Maria Heilmann
.
Hello Mike, thanks for being with us today and telling readers more about your Jack Trader series and yourself as a writer. Let's start, as I have lots of questions for you today:How would you describe your book to someone who has not yet read it?
Treasure hunters threaten the discovery of the single remaining Anasazi village deep in the Mesa Verde area of SW Colorado. Jack Trader, the main character, and Ranger Samantha Baker must stop the men even when their own lives are threatened. The Anasazi, the coyote people, have the capability to transform if they are forced to protect themselves.
.
What inspired you to start writing?
Research about Noah's Ark led to the writing of my debut novel, "
The Nestorian Alliance"
.
.
How did you get the idea for the novel?
This second novel, "
Treasure of the Anasazi
", is a continuation of the Jack Trader series. My research of the
Mesa Verde / Durango area
gave the inspiration to write this book.
.
Are your characters based on real people?
Not specifically, but I'm sure my personal experiences find their way into the characters.
.
Treasure of the Anasazi by Michael Watson in a YouTube Book Trailer:
http://youtu.be/UCQp1_NF9yU
.
Who is your favorite character and why?
Jack Trader is the leading character and my favorite. He always strives to do the right thing and will take personal risk to protect those around him. He is not perfect. He still struggles with his relationship with Samantha.
.
Give us an excerpted quote from your favorite review of this book:
"Darn awesome. I felt like I didn't want to put it down."
.
If Oprah invited you onto her show to talk about your book, what would the theme of the show be?
Adventure in our National Parks.
.
How much of the book is based on real life (either yours or someone you know)?
It's not based on any one person's real-life event(s), but does try to reflect real situations, dialogue and real character actions.
.
What would/could a reader or reviewer say about this book that shows they "get" you as an author?
He writes realistic interactions and natural flowing dialogue.
.
Thinking way back to the beginning, what's the most important thing you've learned as a writer from then to now?
The writing process cannot be rushed.
.
Considering a book from the first word you write to the moment you see it on a bookstore shelf,what's your favorite part of the process?
One of my favorite parts of the process is the research.
.
What's your least favorite?
My least favorite is the revising and re-reading over and over and over. Oh yeah. Marketing is a real pain too. It takes away from writing.
.
What scene or bit of dialogue in the book are you most proud of, and why?
I enjoyed the last scene when (spoiler alert) Jack and Sam may finally come back together.
.
If you had to do it all over again, would you change anything about your book? Nothing. There were changes after my editor and beta-readers went through it though, and I'm glad they did.
.
What genre have you not yet written but really want to try?
I've never written a western, but I am now in the process of writing one based on research I stumbled upon at the historical museum at
Durango, CO
while researching this book.
.
If your book would be made into a movie, who should play the main character?
Hugh Jackman
.
How did you get published? Please share your own personal journey.
After receiving a huge pile of rejections from every agent and publisher I queried by snail mail or email, and failed pitches at numerous writer's conferences, I took the leap to self-publish. The experience through CreateSpace has been very positive. The downside is the amount of time necessary to market.
.
What general advice do you have for other writers?
Write what you are interested in. Don't follow trends. Establish good writing habits.
.
What do you find is the best part of being an author?
Being able to research and write about what interests me. The schedule to write is my own, however, the more structured, the better.
.
What is one thing that you have done that brought you more readers?
Hired a great designer (Laura Wright LaRoche) for the book cover. First impression is extremely important, even though we are told not to judge a book by its cover.
.
What else your readers would be surprised to know about you?
I didn't start writing seriously until I was 50 years of age.
.
Where can people learn more about your writing?My blog on http://www.adventurewithmike.com/mikes-books-etc.html
Thanks so much Mike, for answering so many questions I had. And to all your readers: Have fun and enjoy Mike's great book series!
.
<><><><><>
.