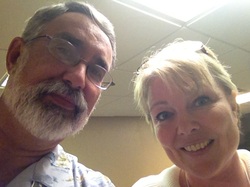 Thursday evening through Saturday evening of this last weekend I attended the OWFI Writer's Conference in Oklahoma City. It's one of the best in this part of the country.

There were some excellent sessions including 'Does sex belong in thrillers?' and 'Mind trips-writing the psychological thriller' by Andrew Kaufman, 'It's a golden age, especially for dark fiction' by Richard Thomas, 'How to hook your reader on page one' by Les Edgerton, and 'Revising like a professional' by Maria V. Snyder, to new a few.

We all had a chance to pitch our books to agents and publishers. I had an especially good pitch session with Michelle Johnson (seen above), founder of Inklings Literary Agency. Even after listening to pitches all afternoon, she still had the energy to listen intently to mine, followed by a few minutes of Q&A. Nerves can be a huge factor when pitching. Going in you may know what you want to say, forgetting the key elements once you sit down across from the person you're pitching to. Michelle made it easy to talk to her and I'm very grateful. I was asked to send a synopsis and the full manuscript to her attention. This was a first for me, so it made my day.

I recommend that if you can make it to a writer's conference-GO! It's amazing how the creative juices are stimulated, even when your new idea has nothing to do with the session your in. And equally important are the other writers you have a chance to share with and learn from.