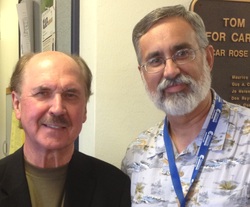 Yesterday was the last of a two-day writers workshop at Rose State College in Midwest City, Oklahoma. The highlight of the course was meeting David Morrell, co-founder of the International Thriller Writers. Other than being our keynote speaker Friday evening, he also gave talks on when it might not be appropriate to write in the first person, and a class on the state of the publishing world. I learned that he has placed many of his backlist on Amazon as ebooks under Morrell Enterprises. He is always ready to adapt to changes in the industry. As for authors, he doesn't think there is nearly the stigma of self-publishing that there was just a couple of years ago. He recommends that an author at least attempt the conventional route before pursuing the self-publishing route.
Mr. Morrell was also on two panels. The first was called The First Page. We submitted the first page of a WIP to get his opinion and that of two agents, Regina Brooks of Serendipity Literary Agency, and Marcy Posner of Folio Management. The moderator would read until one of them would say "stop," at the point whee they would typically stop reading a submission in their office. It was an eye-opening experience. One big no-no was a flashback on the first page. Others included misspelling (or wrong word), excessive descriptions, and cliches. Another panel was ask whatever you want. Again Mr. Morrell was a wealth of information.
He was available throughout the weekend. Very approachable. I spent at least fifteen minutes one-on-one with him, asking him everything I could remember to ask about writing. By the way, after a 40 year career as a published author, he still tries to write five pages a day. This weekend was exceptional.
For those of you who may be interested, he just released a new book, Murder As A Fine Art, a thriller set in 19th century London.